Woodland School Experiences
Woodland School Experiences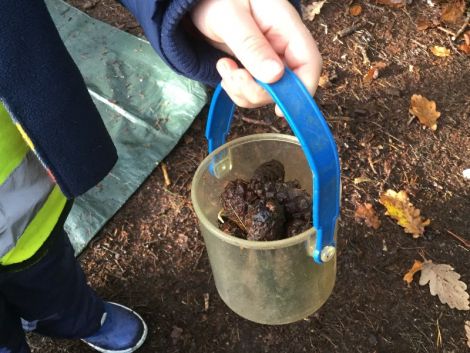 Kylemore Nursery School's Woodland School visits will not take place this year due to Covid-19 restrictions. But please read on to see how it works.
It is a classroom in the forest which aims to:
Give ownership of the woods to the children their parents and the wider community
Provide the children with an area free from plastic resources in which they can explore, play and learn in a positive, fun way.
Give children opportunities to make choices, take risks and develop life-long skills including independence, curiosity and self-worth.
Provide a place for developing an understanding and appreciation of their environment and fostering in them the desire to care for it
At Kylemore Nursery School we believe that all parents and staff have an essential role in the continuing development of our project. This role will include:
accompanying the children on visits
promoting their independence
listening to the children's ideas
ensuring a safe yet challenging environment
communicating with the children about what we all see and do
Only the children who have been attending nursery for 6 weeks and are settled enough to be in school for the full 2.5 session will attend. Staff and Parent helpers will accompany the children.
We will need parents to accompany us on our visits…a maximum of 7 parents for each class.
MOBILE PHONES MUST NOT BE USED ON THE VISITS.
When will we go and how do we get there?
Don't worry about the weather –just make sure your child wears – hat, gloves, waterproof trousers and at least two pairs of warm socks inside their wellies.
On especially cold days extra layers of clothing are recommended.
The first visit for the Morning class is Friday 08.11.19 08.45 – 13.00
The first visit for the Afternoon class is Friday 15.11.19. 08.45 – 13.00
Please check the Calendar for future visits.
On a Woodland School visit day
Please arrive from 08.45 - 09.00 with warm clothes, waterproofs if you have them, wellies and a Healthy Lunch! NUT FREE FOOD ONLY! NO FIZZY DRINKS!
Parent volunteers will gather in the Staffroom where the Do and Don't rules for the visit will be outlined.
Children will gather in their story room where the staff will outline the Do and Don't rules for the visit.
On a Visit day the children attend for 4 hours rather than 2.5 hours.
On a Visit week the children will attend nursery school on 4 days rather than 5.
We eat our lunch in nursery around noon when we return to nursery school. This is followed by activities in school until pick-up time at 1.00pm.
Do we ever need to cancel a visit?
We have an obligation to Risk assess each visit. There are some occasions when we have no option but to cancel a visit:
Frosty weather when the roads into the park have not been gritted and the steps will be slippery
A shortage of parents/carers to accompany the children and ensure health and safety ratios are met.
On such occasions parents will be notified by Parentmail as soon as possible. We do not like disappointing the children but Health and Safety must be our first concern.
What do we do at the Woodland School?
Curriculum Areas

Potential Learning Opportunities

Possible experiences offered

PERSONAL, SOCIAL AND EMOTIONAL DEVELOPMENT

Enjoying being in the forest
Building self confidence
Interacting with others
Being independent
Taking on a challenge
Experiencing success
Experiencing freedom

Being there
Engaging with the environment
Developing thinking skills
Becoming more capable
Having fun
Taking care on the roads

LANGUAGE DEVELOPMENT

Talking
Listening
Describing
Shouting
Laughing
Expressing emotion
Explaining
Sharing ideas

Making our own noise in the forest
Being quiet and listening to the sounds of the forest – river, birds, insects, adults, other children
Communicating ideas
Negotiating with others

EARLY MATHEMATICAL EXPERIENCES

Spatial awareness
Height
Size
Scale
Language of position
Number

Finding shapes, colours, patterns
Being aware of the height of the trees
Lying down and looking up
Distance
Location – vary the walk
Boundaries

PHYSICAL DEVELOPMENT

AND MOVEMENT

Climbing
Digging
Balancing
Jumping
Swinging
Weaving
Cutting/sawing
Tying

Handling and using tools equipment and materials safely
Willow weaving
Using thread/string/rope

THE ARTS

Using language and movement for self-expression
Re-telling stories/ making up stories
Developing ideas
Creative art
Photography
Playing and inventing games

Outdoor art – using natural materials to create sculptures
Observational drawing: mark making: painting
Collage work
Imaginative role play and drama
Introducing animal masks etc into dressing up
Listening to music, bird song tapes, cds
Creation of music using natural materials

THE WORLD AROUND US

Awareness of seasons
Experiencing different weather
Exploring the senses…look… listen… touch… feel… taste
Taking care of the forest – a sense of responsibility
Developing a sense of ownership of the forest
Develop an awareness of and respect for living things and their needs
Knowledge and use of appropriate tools
Keeping safe
Developing skills with tools

Simply Being There!
Natural materials to explore – bark, feathers, willow and hazel wands
Taking bark rubbings
Observing forest creatures and insects
Learning to accept that we cannot bring the minibeasts home with us
Taking care on the road
Personal safety on the bus journey
It's a great experience for everyone – so sign up to come with us and Enjoy!
http://nifsa.org.uk/#
Kylemore Nursery School, Kylemore Road, Coleraine, BT51 3HG | Telephone: 028 7034 4893