Safeguarding/Child Protection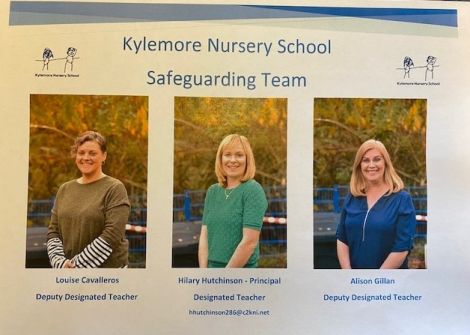 The safety and wellbeing of children attending Kylemore Nursery School is of paramount importance. We are committed to safeguarding and promoting the wellbeing of all children and we expect our staff and volunteers to share this commitment.
We support children in developing confidence, independence, security and resilience as they learn in an environment where their needs are respected, met and where they feel safe and secure.
All governors, teaching and non-teaching staff are trained each year in the need to safeguard children and made aware of their role in identifying possible cases of abuse. All staff employed in the school have been AccessNI checked.

Our Safeguarding Team
Mrs Hilary Hutchinson is the Designated Teacher - hhutchinson286@c2kni.net
Mrs Louise Cavalleros and Mrs Alison Gillan are Deputy Designated Teachers.
Mrs Ann Ramage is the designated Governor.
A copy of the Safeguarding / Child Protection policy and the chart showing how you can raise a concern is on display in the Entrance Hall.
The members of the Safeguarding team and the Chair of Governors attend Education Authority refresher training as required.
As soon as a Child Protection or Safeguarding issue is identified the nursery school will access support from CPSS and ensure that the interests of the child are paramount in all decisions. Our aim is early intervention at all times.
Kylemore Nursery School, Kylemore Road, Coleraine, BT51 3HG | Telephone: 028 7034 4893